Wednesday, May 9, 2018
How can large companies pursue emerging markets?
Much has changed in recent decades when there was a predictable 20-year span between defining an emerging market need, the solutions that get adopted, and the dominant player that achieves widespread acceptance. Large-scale companies optimized their business models to meet this time span.
What about today?  The time span has collapsed.  Disruptors have opened the gates for awareness with social media and various internet apps, including smart assistants, tied to the Internet of Things (IoT).  These disruptors are democratizing global markets, across all sectors – Consumer, Industrial, Enterprise, B2B, Civil, Government, Defense, and the list goes on.
Nearly a decade ago, Google was battling to outcompete a host of players for the number one position in search engines.  Today, agile corporations quickly embrace an even shorter span of 1-2 years or less, between defining a need and providing a solution. Often, these quickly become indispensable or obsolete.  How soon will it take for a preferred digital assistant to win our hearts, minds and pocketbook — "Hey Google", Apple's Siri, Amazon's Alexa, or the Chinese global rival, Baidu?  Will the pace quicken? What will happen next?
The accelerating evolution of emerging markets is not just for agile entrepreneurs and incubators.  Nor is it for the faint of heart.  The rewards and failures are all too apparent for large corporations to stand by and watch.Look at what happened to Kodak and Nokia. What about Yellow Cab and the auto industry today?  In the future, industry giants who are bifurcating their traditional business organization models into ones that invest in meeting this acceleration through innovation, while ensuring operational excellence in their mainstay business, will enable their survival by engaging and proactively shaping emerging market growth opportunities.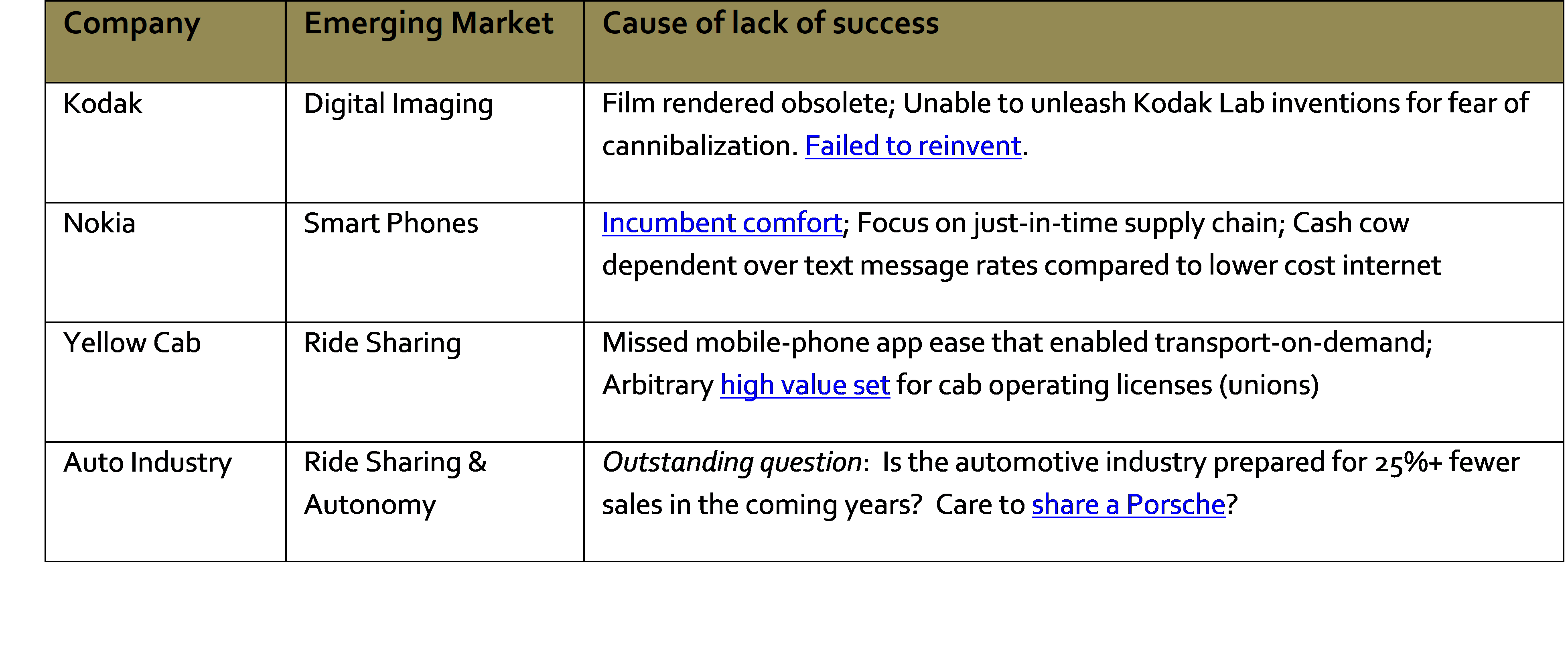 Large companies need to seize the opportunity
Emerging markets are all about opportunity, risk management, and more than a little patience and timing.  Startups are measured on growth prospects by investors and less on profitability, while established companies are measured by quarterly shareholder expectations.  This makes emerging markets fertile ground for startups but difficult for most large companies to navigate.
Pursuing emerging markets have rarely been initiated by large companies and there are good reasons why…  
First, companies have business case hurdle requirements which must be met to support an investment; much of the business case is based on solid market data.
Emerging markets have by definition, little or no market data.  Obviously, data takes time to be captured.  In fact, what data is available is often inconsistent, proving that yes, this is an emerging market, but not strong enough to pass through the gate. This is simply a demonstration of why emerging markets are great for startups but hard for large enterprises.
Second, big companies typically want to focus on "needle movers" that can deliver substantial net gains. Finding potential needle movers are easier said than done.  There's risk in acquiring too early before they are proven. On the flip side, there is risk in acquiring too late in that they become over-valued (selling price and expectations).  The most difficult thing of all is that entering emerging markets requires a completely different mindset by the acquirer.  Without it, the results often draw comments like, "oh no, we tried that before and it didn't work, it was awful.  People got fired." 
Large companies' business models are designed for highly efficient delivery of what they produce for the markets they serve. There is no ambiguity, little experimentation, and no try/fail-fast/evaluate/fix/try-again mentality.  They are all about delivering solutions that meet their core market requirements. For many large companies, innovation is about continuous improvement with a low risk business imperative.
On the other hand, the definition of a needle mover is way different for a startup than it is for a Fortune 500 company. Also, the payoff amount and timeframe for a startup and its Venture Capital investors could be huge in comparison to expectations/requirements of a corporation. Everything is relative… except that small companies who become very good at working within the shortened cycle time, may eventually apply their new-found discipline to other markets.
What if my core markets' life cycles collapse just like emerging markets?
 Within large Fortune 500/1000 companies there are innovators who drive ideas by finding great problems to solve; they just don't hold the same kind of purse strings that the core product lines do.  The companies that "get it" have learned to embrace these individuals and are providing them with real charters — goals, objectives and budgets to pursue and engage with emerging markets. Fast failure/recovery is adopted; timely results are what matters.
One of our favorite recent examples can be found in the On-Demand, Urban Air Taxi emerging market.  In this instance, you have subsidiaries of well established, highly successful emerging market pioneers in Uber and Google, coupled with large mainstream aerospace companies like Bell (Helicopter) and Boeing. These aerospace giants are looking to seriously compete in this early emerging market. Clearly, they see needle mover results in a relatively short period due in part by autonomous vehicle adoption and unmanned air systems moving into the national air space.  There are risks, but for them, it's about having a viable future.
Embracing change to succeed
Incumbents are happy to stick with markets and ride them forever.  But with market life cycles decaying rapidly and high impact emerging markets appearing more frequently, the days of creating a market and then riding it for decades are quickly coming to an end.
Companies who embrace the new models of delivering excellent customer value in core markets while grooming their next markets will thrive, those that don't will become answers to trivia questions.
Success in emerging markets is no longer a choice.
About VMI
Vanguard Marketing International's longstanding mission is, "to offer polymath thinking, deep-knowledge, strategic market expertise and counsel to defense, aerospace and technology companies." VMI's innovation system methodologies gives us the ability to analyze markets and uncover new growth opportunities for disruptive, low-risk entry and capture. VMI works on an ongoing basis with clients to clearly differentiate their company and innovations throughout the investment community and emerging markets.
Read more: e-vmi.com
For more information or to contribute to this or other blogs, please call 480-488-5707